9' Collar Tilt Market Umbrella
Treasure Gardens exclusive, best performing, 100% Solution-Dyed Polyester fabric.
These durable all-weather fabrics offer a 4-year warranty covering loss of color or strength from normal exposure including sunlight, mildew, or rot.
This 100% solution-dyed polyester offers the outdoor casual furniture industry an ideal earth friendly solution and is truly the 100% recyclable "Green" choice.
We are offering these beautiful umbrellas in 6 beautiful fabric choices
While in stock only!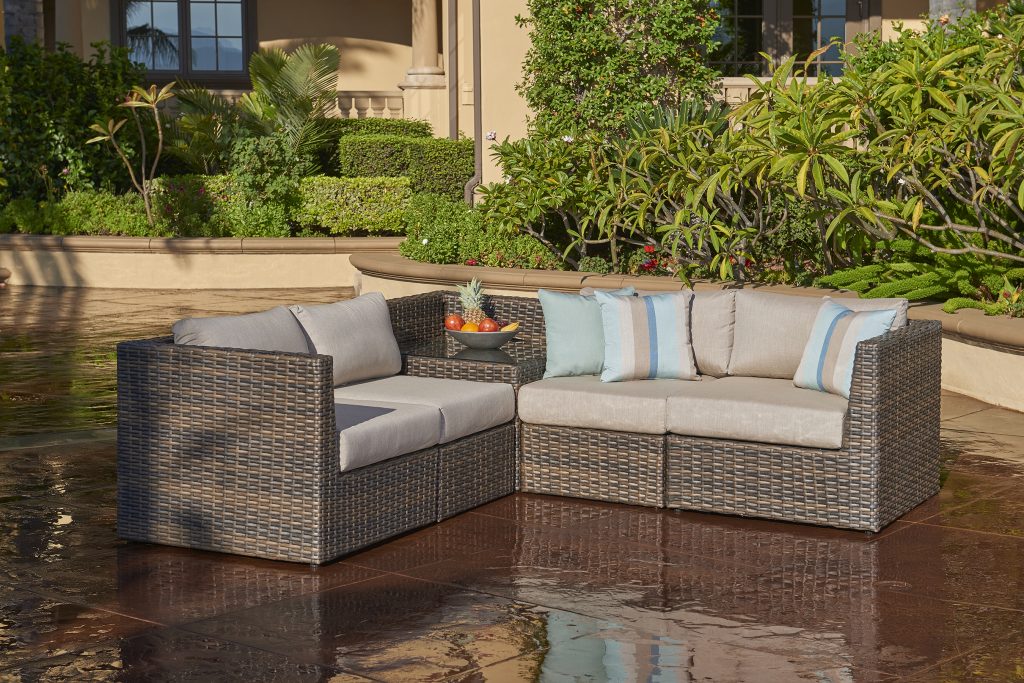 Bellanova Sectional Collection
SOLD OUT FOR 2022
The Bellanova modular sectional is a 5-piece sectional that consists of a Left Arm section, a Right Arm section, two Armless Middles and a Corner glass end table section all for the special price of $1,999
The sectional features a high-density polyethylene resin wicker which makes it very weather resistant to Michigan's hot summers AND cold winters. The frame is constructed of powder coated aluminum and is wrapped in a beautiful Aspen colored pure vinyl weave. The frame is topped off with a plush 6" cushion in a 100% non-fading Sunbrella Cast Ash fabric. QUANTITIES ARE LIMITED!!!!!!!
11' AG 78 Cantilever
From dawn to dusk, the Side-mount 11' AG78 Cantilever Umbrella blocks the sun's glare as it moves across the sky, virtually shading you from all angles of the sun. This resort-quality, cantilever umbrella easily tilts and pivots 360° around the base, requiring no maintenance.
11' diameter cantilever design provides 100 sq. ft. of shade at virtually any angle
100% Kevlar mesh lift cord for added strength and durability
Sturdy powder coat-finished, 2-3/4" dia. aluminum pole
One-handed crank operation glides the umbrella up and into a horizontal or angled position
Infinite front to back tilt: Up to 40 degrees back tilt
Built in light adaptor to fit Treasure Garden lights (lights not included but available)
Double-vented, marine-grade canopy is made of 100% solution-dyed polyester to resist the damaging effects of sun (no fading), mildew, and dirt
Canopy is machine washable, air dry only
Spot clean canopy with warm water (no higher than 100°F) and a mild natural soap; rinse thoroughly to remove soap and air dry
Base lends solid, wind-defying support when filled sand (sand not included)
Includes a protective cover
Available now for $999.00
(Milano Charcoal, Gateway Mist and Cast Slate are available for $1,199.00 (These are Sunbrella fabrics)
Quantities are Limited So…… Do Not Wait!!!!!!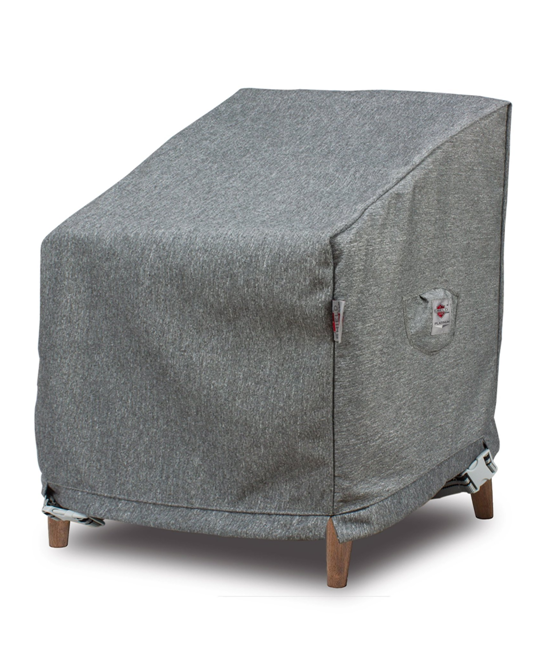 Premium Heavy Duty Patio Furniture Covers
Shield Membrane is made of Thermoplastic Polyurethane (TPU). TPU was first developed in 1937. The material is renowned for many things including its: high elongation and tensile strength; its elasticity; and to varying degrees, its ability to resist oil, grease, solvents, chemicals and abrasion. A special property about TPU is its segmented structure, which is composed of hard segments (HSs) and soft segments (SSs).
As temperature rises, the soft segments expand and tiny pores are formed on the membrane allowing water molecules to go through. In cold weather however, SSs tighten up and close up those pores. Consequently the strength and the insulation properties of the material increase dramatically, which helps to keep the wind and dirt from entering the cover and minimizes the chance of wear and tear by wind and cold weather extending the life of the cover. At Hentex we developed a special process laminating TPU to the outer and inner shell creating the SHIELD outdoor cover.
Adjustable click-close hem cord to secure your cover on windy days
Patent-pending side window/handle for easy handling and ventilation
Durable, anti-tearing, anti-scratch fabric
2-way ventilation system: via ventilation windows and breathable fabric
Soft Velvet for the inside fabric protects your furniture
Description of Mercury Premium Covers
COV-M211 Mercury Cover Lounge Chair: 35" w x 35" d x 35" h $69.00
COV-M241 Mercury Cover XL Lounge Chair: 43" w x 42" d x 43" h $79.00
COV-M243 Mercury Cover XL Sofa: 96" w x 42" d x 43" h $119.00
COV-M571 Mercury Cover 54" Round Table and Chair Cover: 92" Dia. X 36" h $169.00
COV-M699 Mercury CoverRectangular/Oval Table and Chair Cover: 92"w x 128" d x 36" h $229.00
COV-M902 Mercury Cover XL Umbrella Cover: Fits 9-11 Market Umbrellas $49.00
COM-M920 Mercury Cantilever Cover: Fits 10-13' AKZ Style Cantilevers $75.00